Handlebar serves made-from-scratch vegetarian and vegan comfort food for breakfast, lunch and dinner seven days a week. We are a small, casual neighborhood restaurant with a full-service bar and beer garden.We recycle, brew fair-trade coffee, serve all organic eggs, and source produce from local farms. Handlebar has been serving up food, booze and good times in Wicker Park since 2003.
HANDLEBAR DELIVERS!
We now offer delivery on Chownow! Chownow orders can be placed by clicking here. We look forward to bringing the Good Times to you!
Hours:
Mon-Thu: 10am-12:00am
Fri: 10am-12:30am
Sat : 9am-12:30am
Sun: 9am-12:00am
Takeout orders end 30 min before kitchen closes
No Reservations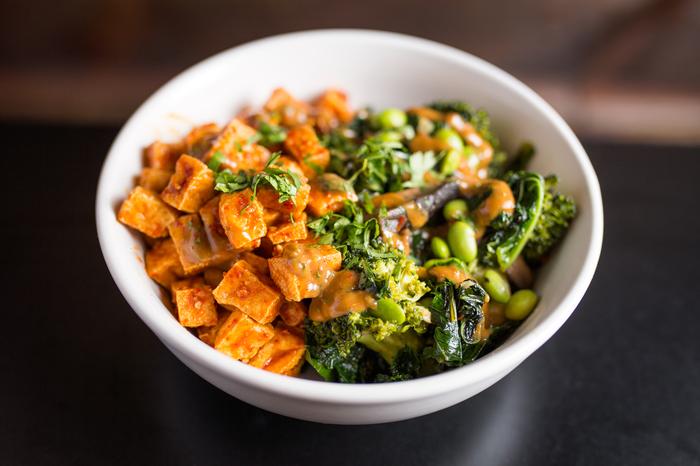 APPETIZERS
Fried Pickles* 7.00
cornmeal breaded dill pickles, house-made vegan ranch
Black Bean Tostadas* 8.25
hand pressed tostadas, salsa verde, onion, cilantro, guacamole, jack cheese or vegan cashew queso
Nachos* 12.75
black beans, seitan chorizo, pico de gallo, guacamole, queso, or vegan cashew queso
Chili Cheese Fries* 7.25
ancho-spiced veggie chili, jack cheese or vegan cashew queso
Chips & Guacamole* 8.00
avocado, serrano, lime, pico de gallo, tortilla chips
add a side of queso or vegan cashew queso 3
SALADS
add tuna 7, tofu 2, fried chicken seitan 5, fried avocado 4.5 avocado 3
all dressings house-made
Handlebar* 10.75
arugula, pears, walnuts, parmesan, champagne honey-mustard vinaigrette
Everything Green* 11.75
spinach, baby green beans, cucumber, avocado, edamame, pistachios, sprouts, green goddess or vegan ranch dressing
Wilted Kale Salad* 10.75
pepitas, quinoa, avocado, cumin-citrus vinaigrette
SANDWICHES
served with a pickle & choice of side
upgrade to a premium side 2.00 add avocado 3 fried avocado 4.5
Sloppy Joe* 10.25
carne de soya, tangy BBQ sauce, slaw, pretzel roll
Seared Tuna Steak 14.50
medium rare tuna, arugula, sprouts, tomato, roasted garlic aioli, multigrain
Buffalo 'Chicken' Wrap* 10.25
fried chicken seitan, wing sauce, romaine, onion, tomato, vegan ranch, flour tortilla
Grilled Cheese* 8.00
munster or vegan soy cheese, tomato, multigrain
Green Meanie* 9.75
avocado, herbed goat cheese, spinach, tomato, sprouts, agave-mustard spread, multigrain
Nashville Hot Fried "Chicken"* 11.75
hen of the woods mushrooms, bread & butter pickles, hot sauce, slaw, ranch, brioche bun
Fried Avocado Grilled Cheese* 11.75
sauteed mushrooms, onions and spinach, tomato, breaded avocado, munster or vegan soy cheese, sourdough
ENTREES
served after 3pm
Fried Avocado Tacos* 12.75
cabbage slaw, tomatoes, refried beans, house-made ranch, flour tortillas, brown rice, salsa verde
Black Bean Maduro* 11.25
sweet plantains, brown rice, cheese, pico, black beans, spicy chipotle tomato sauce – add avocado 3
Blackened Catfish 14.00
tarragon tartar sauce, choice of two sides – upgrade to a premium side add 2.00 each
Sambal Tofu* 12.25
spicy garlic chili sauce, kale, broccoli, collards, mushrooms, edamame, peanut sauce, brown rice
Grilled Fish Tacos 14.25
catfish, jack cheese, cabbage slaw, avocado, salsa verde, chili, brown rice
Ground Nut Stew* 10.75
sweet potato, peppers, zucchini, kale, brown rice, peanuts, toasted coconut
Smoked Paprika Shrimp & Grits 15.25
Gulf shrimp, Wisconsin aged cheddar grits, sautéed spinach, sweet potato crisps
Chili Mac Attack 13.75
smoked gouda mac, veggie chili, aged cheddar, sour cream, pickled jalapeños, pico, tortilla crisps
SIDES
Freshly Cut French Fries* 3
Garlic Mashed Potatoes* 3
Collard Greens* 3
Organic Black Beans* 3
Cup of Chili or Soup* 3
Sesame Broccoli* 3
PREMIUM SIDES
Smoked Gouda Mac 5.00
Mixed Greens* 5.00
Bowl of Chili or Soup* 5.00
Wisconsin Aged Cheddar Grits 5.00
Queso Fries* 5.00
Vegan Dream Mac* 5.00
DINNER SPECIALS
Available after 6pm Daily
Cheddar & Apple grilled cheese* 9.00
spiced apple butter, Wisconsin aged cheddar OR vegan cheese, caramelized onions, arugula, on multigrain bread with choice of side
ratatouille & Cheesy Garlic Bread* 10.25
a stew of grilled eggplant, zucchini, onion, tomatoes and bell peppers topped with balsamic greens and served with rustic garlic cheese bread
szechuan style noodles* 12.75
spicy pepper chili sauce, noodles, bok choy, tofu, shiitake mushrooms, scallions, peanuts
BRUNCH SPECIALS
Available 9am to 3pm Saturday & Sunday
Hashbrown 'Omelet'* 11.25
crispy potatoes stuffed with chorizo seitan, poblano peppers, onions, jack cheese OR vegan cheese, topped with pico, avocado, scalions, sourdough toast
Italian 'Beef' benedict* 11.25
house-made italian beef seitan, vegan hollandaise, giardiniera, french bread, eggs OR cornmeal battered tofu cakes, breakfast potatoes
DAILY SPECIALS
Sunday
Taco & Tequila Night* 11.00
two fried avocado tacos, a shot of tequila, and a Tecate!
(available after 3pm)
Monday
Chili Mac Attack! 9
smoked gouda mac, chili, aged cheddar, house-pickled jalapeños, tortilla crisps
Tuesday
HandleSmash Burger & Fries* 12.00
two house-made black bean patties, cheddar or vegan Chao cheese, caramelized onion, lettuce, pickles, special sauce, brioche bun (no substitutions)
*available vegan
Rules can be a drag, but they are a necessary evil. We just want things to run smoothly so that everyone can have a kick ass time.
We are grateful you have chosen to eat with us. We are a small restaurant; with a small kitchen that makes everything from scratch, but if you're patient everything will be AWESOME.
We want you to be seated as soon as possible but we cannot seat incomplete parties. This policy exists to ensure that customers who are present and ready to order can do so. It also helps us regulate the flow of orders to our very small kitchen. Our hosts are enforcing the rules that we have asked them to follow. We strive to treat our customers with respect and civility and hope that you will extend our employees the same courtesy.
Additionally, it is difficult for us to seat large parties, especially when the patio is closed — parties larger than 6 may be split into smaller groups and sat at separate tables.
If there is a line of hungry people out the door, we will ask for your table after you are finished.
Please control the urge to move tables and chairs.
No dogs (other than service animals) are allowed in the restaurant or on patio.
Contact Us
Questions? Concerns? Just think we're Awesome? Drop us a line!
Handlebar
2311 W North ave
Chicago IL 60647
(773)384-9546